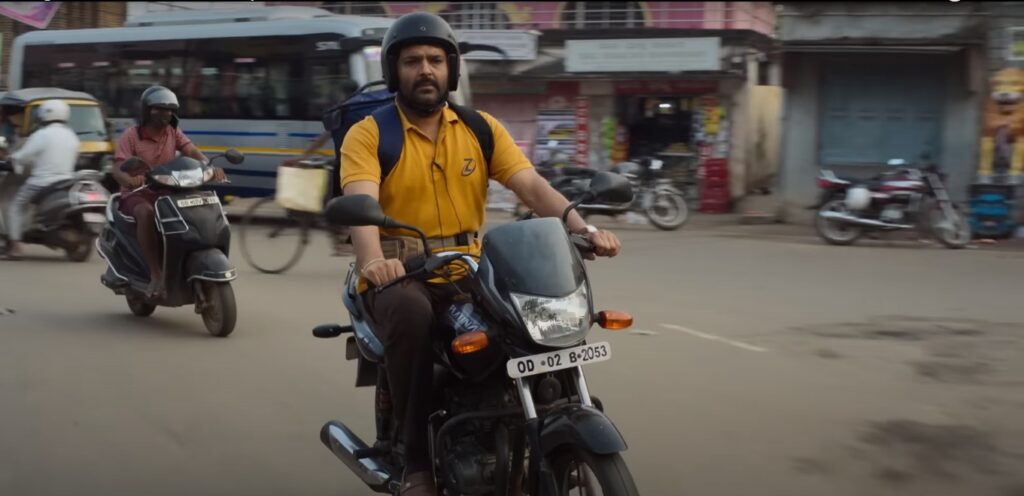 Synopsis: Zwigato follows the story of a food delivery man. The struggles of his daily life to make money for his family.
Movie Details
Movie Name
Zwigato
Director
Nandita Das
Producer
Deepak Segal, Sameer Nair,
Nandita Das
Cast
Kapil Sharma, Shahana Gowsami, Gul Panag, Swanand Kirkire, Sayani Gupta, Tushar Acharya
Run Time
1 Hr 44 Mins
Censor Certificate
U
Language
Hindi
Music
BGM- Sagar Desai Songs – Hitesh Sonic
Release Date
Mar 17, 2023
Movie Details
---
Nandita Das directed Zwigato is portraits the life of a delivery man. A commoners life, his struggle to make achieve his goals. It remains to be Nandita Das film, the idea is better and the movie does the same.
Story
Manas(Kapil Sharma) after losing his job as floor manager in a factory during pandemic, gets a job as a food delivery to support his family.
His new job and role in his family transforms through time. The movie show cases this transformation.
To meet the families need Pratima(Shahana Goswami) of Manas explores for the job opportunities. How the family turns into forms the movie.
Review – Zwigato
Zwigato is a kind of film critics and audience want to be success. These type of films depicting life of an ordinary person never been a easy choice for the directors and producers in the bollywood industry.
Zwigato has everything in its script to make a good film. The story and narrative is done with care perhaps too much care.
Zwigato try to bring more issues to the film, which being a feature film feels like too much packed.
The movie from beginning portrays numerous social awareness to people. Zwigato further goes to talk about Political analytics, finance and even woman empowerment.
As said Zwigato has so much to tell. But the movie failed to create the bond needed for the audience to have a feel.
The scenes are abrupt in starting and ending. Each seen we can see that something is happening but we could not indulge into the scene.
The movie is well made for the intended motive and done with a lot of research into the life of delivery persons whom we does not see past.
With the writing we see how much effort and research that has been put on the making of the movie.
First half of the Zwigato does well to establish the stage for the movie very well. The slow passed screenplay is necessary for the script.
Second half also moving at the same space some times testing our patience is I think is the right way to make the movie to touch your heart.
Director got what she wanted from the actors and achieves creating a movie exactly what she wanted.
Kapil Sharma does a role we do not expect from him and does a good job. He does provide various emotion in different scene with is ease, proves once again his deftness as an actor to his fans.
Shahana Goswami as a home maker and taking care of her children and having a part time job had a good venture in Zwigato.
The background music gives the movie melodrama feel and makes us feel the actors right on.
Cinematography should be given a special mention. Ranjan Palit provides visual treat for the audience.Showcasing the suburb of the Bhubaneshwar where the story takes place.
Conclusion
Zwigato even though seems to be a slow paced movie is a good watch. The movie hassmall set backs but what we witness is common man's life and his struggles.
Zwigato is a good movie that has so many things compressed into a single story. We could not get all the message that makers intented for the audience on a single watch, but the things you understand will stay with you for a long time.
Social Media Link
Also Read: Tu Jhoothi Main Makkaar Review – bolly4u.org