Synopsis: Durga an undercover Agent of special force and a house wife is recalled for tracing a serial killer who is targeting women with successful career.
Movie Details
Name
Mrs Undercover
Language
Hindi
Cast
Radhika Apte, Rajesh Sharma, Angana Roy, Sumeet Vyas, Saheb Chatterjee, Laboni Sarkar and Biswajit Chakraborty
Director
Anushree Mehta
Producer
B4U Motion Pictures, Knight Sky Movies and Jaadugar Films
Music
Background Score: Kshitij Tarey
Songs: Amit Sawant, Ankit Shah and Abhinav Shekhar
Cinematography
Abhimanyu Sengupta
Editing
Sandeep Kurup
Runtime
1 Hr 55 Mins
OTT Platform
ZEE5
Story
Durga (Radhika Apte) a Special Force Agent is sent sent as an underground agent as a Housewife Twelve years ago. Special Force Department loses her data in the office fire, Over time the department forgets her existence.
Durga meanwhile being true to her employers lives undercover, taking care of the middleclass family as a sincere housewife, she even not sure she is an undercover agent.
In the mean time there is a serial killer calls himself 'common man' (Sumeet Vyas) killing strong independent woman with a successful career in Kolkata.
Rangeela (Rajesh Sharma) head of Special Force is trying to find a agent who is off the grid as the common man is targeting the Agents as well. He find Durga now fully immersed in family life and almost forget that she is a spy.
Can Durga come out of her family life and save the day for the Special Force and the Public forms the rest of the story.
Read our full review further.
Also Read: Shaakuntalam Movie Review – Bolly4u.org
Mrs Undercover Review
We have seen lot of Spy Thrillers in recent times as the audience rejoicing the genre. Mrs Undercover is set as a Comedy Spy film with a strong cast and a good story but failed to give a enjoyable movie experience.
Anushree Mehta has created Mrs Undercover with a good intention and noble idea of feminism and woman empowerment.
Mrs Undercover turns out to be a comedy thriller film with the touch of woman empowerment does not tick in anywhere to make a enjoyable flick.
One liners in the first half is is humorous and enjoyable, as the movie goes on the one liners are not so effective and becomes obvious.
With more effort in writing this could have been a perfect film for the binge watch, This film tries a lot in its short runtime, but it is not going to make you laugh or thing.
Performance
Radhika Apte gives a very fine performance as we already expected of her. Apte delivers a memorable performance as a home maker taking care of her husband, son and her Father and Mother in laws.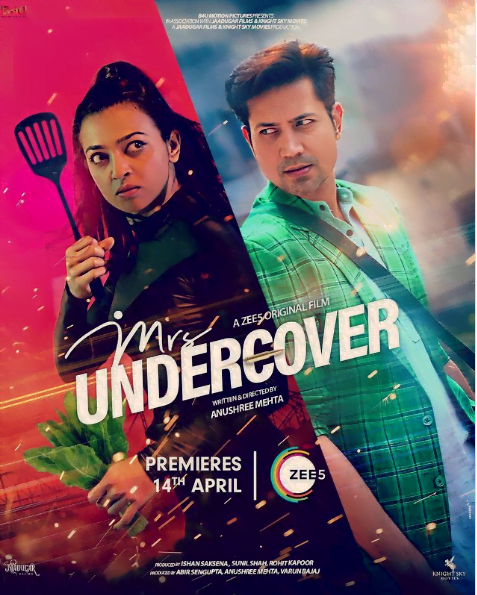 Rajesh Sharma does a decent job for his role and his onscreen chemistry with Radhika is fulfilling. Especially in the first half he has done a tremendous job in a underwritten role.
Sumeet Vyas as a serial killer is a character so badly written in the recent times. We do not get his back story and a strong reason for his doings, after some point we even forget about antagonist.
The movie with a such a potential cast failed to deliver as the characters are all clumsy and partly written.
Also Read: Top Comedy Web shows to Stream on OTT Now – Bolly4u.org
Technical Aspects
Anushree Mehta gives this tale which has all the right to be a good film with a weak writing gives a half baked curry. But apart from writing she has done a very good job of creating technically sound film.
Cinematography by Abhimanyu Sengupta is good, the scenes with antagonist are well captured and certainly deserves applauded.
Background score is done well and does not makes any impact on elevating the viewing experience.
Conclusion
Mrs Undercover is a noble attempt to create a film that talks about woman empowerment. But trying to bring so many attributes to the movie made the screenplay more clumsy and the core theme of the movie is hidden under these unnecessary additions to the film.
Social Media Link